So, paper is my downfall. I love paper. Now, don't get me wrong....I don't have a problem with junk mail and putting all paper possible in the recycle bin...but I have a lot of papers I want to read. Fliers of houses that are possibilities for some client or another, or a new listing I liked, or showing sheets I need to fill out feedback for the sellers/agents. Receipts, to-do lists, recipes to try, coupons, craft projects to make, wrapping paper, packing paper, tissue paper, gift bags, journals, lists, magazines, and then there is the SCRAPBOOK PAPER and my *purple paper collection* Oh yeah, and the Mail: bills, invitations, newsletters, newspapers (I love the Kansas City Business Journal) magazines, cards, letters/notes (do you ever get any of these anymore?)
Since I love paper so much and have been on a search for cute file folders for the past 7 years....I had just picked up some new cute ones at Michael's, 4 for $1 dollar and 3 for 1$ at Target Dollar Spot. I've been thinking about a command center for a little while. I have a couple of projects in process for this in our household, so you will have to get by with just a few pictures of what I completed tonight. I'll post more when I finish the rest of the project. So, I went around my house and gathered everything that I thought could work for a command center like what Toni at
abowlfulloflemons.blogspot.com
made. Here were my options:
BEFORE--Selecting my "Command Center." Purse and shoe folders are from Michael's, set of 4 for 1$
I decided on this, which doesn't look like much, but it helps the file folders stand upright when I put them in front, like the next picture....


DURING--Command Center--Blue/Green/Teal folders from Target 3 for $1




My files in this basket are currently: "IN"
Kristal
Matt
Pay
To File
Receipts
Shred
Ideas (things to consider, build, read, copy, try, etc.)
Grocery/Coupons
AFTER--Command Center




In my little white plastic desk organizer I have a notepad that we make our lists on. A pair of scissors, a black Sharpie (since I'm starting to note when I open something....thanks to the blogger who posted that idea, sorry I can't remember who you are) and a blue and a pink Sharpie for my husband and I to write on the calendar with. Check back later to see how that project turns out! I have also added stamps, envelopes, address labels and a plain notebook if you need more space than the "list" paper. Outgoing mail simply sits in the front of the first folder so we can easily see it and run it out to the mailbox or to the post office. I'm going to try putting our GPS's in here (we have 2) and I usually have both in my purse, doh! Not sure if that is going to work or not, but going to try it, then hubby can use his when he wants to. I am also going to try putting greeting cards in here and monthly folders with appropriate cards in them. My address book is in my phone, but I think I'll keep the old book of addresses in here, too. I think total cost for this was less than 8$
Teal basket 1$ at Big Lots
Folders 3$ worth
White plastic desk organizer either given to me from my Mother or picked up at a garage sale for less than 1$
Card organizer purchased at 1/2 price books for 1$
Clear snap folder with black trim from Dollar Store 1$ (I put my address labels, stamps and envelopes in it.)
Scissors and Sharpies and pens I had.
List paper 50 cents, after Christmas sale at Gordmans
I think this is going to work pretty well for us. Thanks for making it one of the challenges, Toni!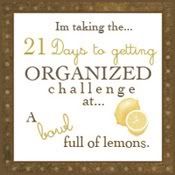 Ok, so I have had off and on success with posting the little pictures like the one above for the 21 day challenge at A Bowl Full of Lemons. I was able to do it on my second day of blogging and then I have been trying ever since and couldn't get it to work again until now. Am I the only one? I was able to do it this time in the Edit HTML mode, by posting the code. I have tried it this way before though and only get the actual text/code, no link or logo. I don't know, but glad it is working right now!